Sunday, 12 June 2011
Browse »
Home
»
GPS
»
troubleshooting
»
troubleshooting guide
» TomTom GPS Plus
---
TomTom GPS Plus
In addition to all the features that are included with TomTom ONE, TomTom PLUS provides you with a range of additional services. For example:
Safety Cameras – advance warning of Safety Cameras in danger hotspots.
Weather – up-to-date weather information for your journey.
Many more services are available and more are being added all the time. Go to
www.tomtom.com/plus
for more information.
Note : To use TomTom PLUS, you need a GPRS-ready mobile phone with Bluetooth. If you already read email or browse the Internet with your mobile phone, then it is probably GPRS-ready; if you are not sure, ask your network provider.
Connecting to your phone
If you have a Bluetooth-capable mobile phone then you can use your TomTom ONE to access TomTom PLUS services.
Note: Visit www.tomtom.com for a list of compatible Bluetooth-enabled phones.
This is the very first time you have used your TomTom ONE with your phone and there are a few steps needed to 'pair' the two devices, i.e. make a connection.
Select 'Connect to your phone' .
Pick your phone from the list displayed.
When prompted to connect, enter a pass code (password) of '0000' on the phone.
You will then be asked to set up a wireless Internet connection. Do this if you want to use TomTom PLUS services.
Tip: To allow automatic connection from now on, make your TomTom ONE a 'trusted' device on your phone. See your phone manual for details.
Signing up to TomTom PLUS
You'll be taken through the very brief sign-up process when you try to use any of TomTom PLUS's services for the first time. Enter your email address as your TomTom PLUS user name and "PLUS" as your password. That's it! You can now use any of the extra services.
You'll now receive an email with your user name and password, giving you access to the member area of the TomTom PLUS web site. You can then go to
www.tomtom.com
to purchase subscriptions and find out about offers and free services that are available for your product.
TomTom Traffic
Tip: TomTom Traffic is not available in the USA.
Choose '
TomTom Traffic
'

and then '
Enable traffic
'

to switch on the main TomTom Traffic service and the other related route planning and map display functions. If there is traffic information available for your area, TomTom traffic will stay enabled until you choose '
Disable traffic
'

later on.
Select '
Update traffic info
'

to download the latest traffic information for your area (if available) from the TomTom Traffic Internet server, using your phone's GPRS data connection. Back in the main navigation view, you'll notice a new traffic 'route bar' on the right hand side of the display. In the top right corner is a special animation, which TomTom Traffic uses to show you its current status:
Traffic information is being updated

Traffic information was updated less than 10 minutes ago

Traffic information was updated less than 20 minutes ago

Traffic information was updated less than 30 minutes ago

Traffic information was updated less than 40 minutes ago

Traffic information was updated more than 40 minutes ago

If the color of the indicator turns yellow, this means there is more up-to-date traffic information available on the server for you to download

The connection to the TomTom Traffic server failed. Try choosing 'Update traffic info' again. If it still fails, it's probably for one of the following reasons:

GPRS settings incorrect. Ask your network provider for help with your phone's settings.

The account is registered for another device. Select 'New device' in the 'My Traffic' section of 'My TomTom' on www.tomtom.com and try again. (You can only use your Traffic account on one device at a time.)

Your subscription has expired. In the Traffic section of 'My TomTom' you can look up details of your traffic account and extend your subscription.
If you have a route already planned, you'll also be able to use the route bar, beneath the TomTom Traffic status animation. Imagine the bar, from bottom to top, represents the remainder of your journey. Traffic incidents are then shown at the appropriate relative points along the route bar, so that you can see what obstacles await you. TomTom Traffic uses a variety of different incident icons, as shown below:
| | | | | | |
| --- | --- | --- | --- | --- | --- |
| | Traffic incident | | Road works | | Avoided traffic incident |
| | Accident | | One or more lanes closed | | Fog |
| | Traffic jam | | Road closed | | Rain |
| | Wind/Storm | | Snow/Ice/Hail | | |
You'll see these same icons used in more detail within the main '
TomTom Traffic
'

system. Use the menu option '
Show traffic info
'

to display an overview of all incidents on your planned route. In addition to the icons above, the overview also shows three different road patterns:

(slow traffic),

(stationary traffic) and

(road works).
Selecting '
Replan
' will calculate a new best route for you, automatically taking into account the incidents and their severity. For clarity's sake, incidents on the overview are shown as simple red circles. If you'd like more details, you can use
and
to step through the incidents, one by one.
Note: A planned route may still take you through a traffic jam if this is still considered to be the fastest way to your destination (i.e. faster than less congested alternatives).
Tip: As an alternative to using 'Replan' on the TomTom Traffic overview display, you can use 'Minimize traffic delays' on the 'Find alternative' menu.
Instead of being restricted to the scope of a particular route, you can also choose '
Browse map
'

to view all traffic incidents applicable to your local map. As usual, you can scroll around and zoom in and out, to see any area in appropriate detail.
Depending on your GPRS rate with your network provider, you may want to use '
Change Traffic preferences
'

to automatically keep TomTom Traffic (and your route) updated while you're on the road. For full automation, select '
Automatically update traffic info while on route
' and '
Automatically optimize the route after every update
'. You'll probably also want to select '
Beep when route traffic situation changes
', to receive an audio warning when the update takes place and a new traffic situation is reported.
TomTom Weather
Choose the main menu option '
TomTom Weather
'

to get an impression of the current weather at any location, selected using the usual destination options. Using your configured wireless GPRS Internet connection, TomTom looks up weather information from thousands of weather stations around the world, presenting the most suitable to the selected location.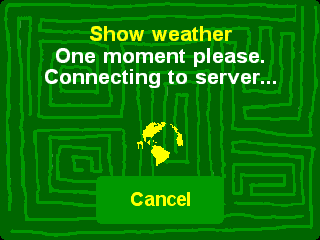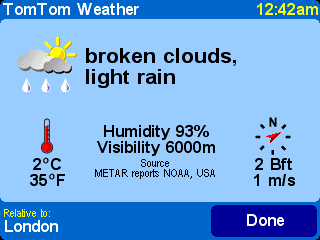 PLUS services
In addition to the two dynamic services above, you can also download many extras, such as new sets of Points of Interest, new voices, etc. The items that appear for download could comprise some extra, free items (available for everyone), as well as the items you've already purchased (so you can reload them if needed) and a limited number of 'premium' items (during an initial period). The list of items that appears on your device will vary according to the number of free premium items you have 'used up' during your initial period. You can purchase more premium items at any time from
www.tomtom.com
.
Start by choosing '
PLUS services
'

from the main menu.
Download a map
Choose '
Download a map
'

to grab a map of a city that didn't already come with your TomTom system. For example, if you're planning a weekend or city trip, you can download the city map for your destination. Follow the prompts, choosing a country and then searching for the city you want.
Tip: City maps can be large in size. For bigger cities we advise you NOT to download the maps directly to your device since the costs for the GPRS data session can be significant. For these larger maps, it's better to download them first on your desktop computer and then transfer them using your usual connection.
To start using your newly downloaded map, use '
Manage maps
'.
Download POI
Downloading a new set of Points of Interest is very similar. Use '
Download POI
'

. Only sets that are free, part of your purchased system or available under an initial period will be listed.
Download voice
Your TomTom system comes with a number of voices that guide you during navigation. With TomTom PLUS you can download new voices to find one that suits you better (or just for fun). The digital voice sample files are relatively large in size, so you shouldn't normally download them directly to your device using GPRS. Use your desktop's fast Internet connection, logging in to
www.tomtom.com
, then transfer the voice files using your USB cable instead. Once downloaded, use '
Change voice
' to start using the voice samples in navigation.
Download map colors
Your TomTom system comes with a number of different map and navigation color schemes, to cater for personal preference, regional differences and night/day use. Use '
Download map colors
'

to see the extra schemes available on TomTom PLUS.
Once downloaded, use '
Change map colors
' to browse to and select a new color scheme.
Download update
Choose '
Download update
'

to check for application updates for your TomTom system. If one is available, note that it may have to be installed via your desktop computer.
Edit service account
You can use '
Edit service account
'

to enter updated TomTom PLUS username and password details on your device, perhaps because you changed them to something more memorable on
www.tomtom.com
.
Note: TomTom PLUS services vary by country and are updated regularly. Please visit www.tomtom.com frequently to find out about new premium content and special offers.
Note: The use of TomTom PLUS services does not take into account the cost of GPRS data calls from your device. Please check your network operator for cost details.
Maps
The digital maps form the basis of everything your TomTom product can do and many functions make use of the map browser. This chapter explains how to move around in the browser and how to use it to set up destinations and search for things.
Browse map
Choose '
Browse map
'

to get started in the map browser. The map view is oriented in the same way as in a paper map, i.e. with north 'upwards', and shows the usual cities, towns, major roads, streets, railway lines, rivers and lakes. Unlike a paper map, you can zoom in and out and vary the amount of detail shown. You can also overlay categories of Points of Interest, Traffic information (if subscribed) and personal elements such as favorite locations and departure/destination points.
The main elements of the map browser are:
Scale bar
Cursor position
GPS button, choose this to re-center the map on your current GPS position
Zoom bar
Your current GPS position
Options button (described below)
Search button (described below)
Cursor button (described below)
A Point Of Interest, these will appear according to your own preferences.
Note: The appearance of the map and its associated controls will differ slightly when using live Traffic information (dimmed main colors, highlighted traffic incidents).
You can scroll around a map by dragging it with your finger. Maps will usually be scaled for you, perhaps to encompass a recently-calculated route or to show details of a particular junction, but you can adjust the scale yourself if needed. If the zoom bar is showing, simply drag its handle

up and down slowly. The map will be continuously zoomed in (when sliding down) and out (when sliding up) around the current cursor position.
Tip: Only a 'blocky' preview map is shown while you're changing the zoom level. The moment you lift your finger, the map is drawn properly in full detail.
Cursor functions
The cursor

is your most valuable tool in the map browser. Select any spot on the map to place the cursor there. You can then do things with the current cursor position by using the cursor function

.
Choose '
Navigate there
'
to plan a route from your current GPS position to the cursor position.
Choose '
Center on map
'

to make the cursor position the new map center, i.e. with your chosen spot in the center of the display.
Choose '
Find nearby POI
'

to find the Point Of Interest nearest to the cursor position. As usual, icons are shown for the five categories that you've used most recently, use

to bring up a list of all categories that are available. Within a category, use

and

to scroll through the list of all Points of Interest, neatly sorted according to their distance from your cursor position. Choose the one you want, to display it (or as near as it's possible to get to it using standard roads) in the center of the map display.
Choose '
Add as POI
'

to add the cursor position as a new POI item in one of your own categories. For example, adding a new company site to a 'Your offices' category. If you haven't yet created any categories, you'll be offered the chance to create one now.
Note: You can't add extra Points of Interest to the built-in POI categories.
Choose '
Travel via...
'

to create a route that includes the cursor position.
Finally, and perhaps most usefully of all, tap on '
Add as favorite
'

to set the current cursor position as a favorite location. This can be invaluable for locations which don't have known or recognized addresses.
Finding locations on the map
Use the

control ('
Find
') to scroll the map quickly to any specific location (Address, Recent destination, POI, etc.) In addition to centering the map on your chosen location, the zoom level is also reset to show the location in appropriately high detail.
Map options
Use the '
Options
' button to customize the level of detail shown on the map.
Clearing the '
Names
' check-box (it's selected by default) will stop the display of relevant town and district names. Selecting '
Favorites
' will pop up a yellow star for each favorite location (only on the map view). If TomTom Traffic is enabled, note you can select '
Traffic
' to show current traffic information on the map (whose appearance will be altered to highlight traffic incidents).
You can turn on (or off) the display of '
Points of Interest
' on the map view by selecting its check box. Which Points of Interest are displayed depends on the categories you have chosen to show. You can make this choice now, by selecting the '
POI
' button, or later, using '
Manage POI
' in Preferences.
Switching maps
Depending on which application package you purchased, there may be more than one map database available. If so, you can use '
Manage maps
' in Preferences to switch maps or even download a new one.
Advertisement:
Related Posts : GPS, troubleshooting, troubleshooting guide