Sunday, 12 June 2011
Browse »
Home
»
GPS
»
trobleshooting
»
troubleshooting
»
troubleshooting guide
» How to set Tom Tom GPS your current location as 'Home'
---
How to set Tom Tom GPS your current location as 'Home'
You may have already set your 'Home' location when you first switched on your TomTom ONE. If you want to change the location you set, or if you have not set the 'Home' location, you can set it to your current location by following these steps:
Tap the middle of the touchscreen, to bring up the main menu.
Tap 'Change preferences'.
Tap 'Change Home location'.
Tap 'GPS position'.
Note: If you are not at home, tap Address and enter your home address.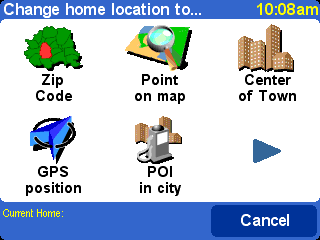 Your current location is now set as 'Home'. You can navigate back here at any time with three taps.
Note
: Your Home location need not be your home, it could be your office or any other location you visit regularly.
Advertisement:
Related Posts : GPS, trobleshooting, troubleshooting, troubleshooting guide